HackensackUMC Mountainside Family Medicine Residency Program
Quality patient care and superior training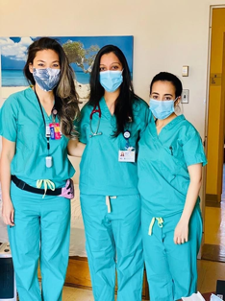 The mission of the family medicine residency program at Hackensack University Medical Center Mountainside is to educate current and future family physicians to deliver patient focused, community oriented, and evidence-based medical services with compassion to patients and their families; with respect for care team members, physicians and other health professionals; with accountability for fiscal and ethical performance; and with responsibility to the diverse communities, we serve. The residency program is dedicated to identifying health care disparities and meeting the health care needs of our patient population. The Program will continuously seek ways to improve the residency and the quality of the care we deliver to our patients. We strive for a fulfilling, safe and thought-provoking workplace for all. We believe we are stronger together and we commit to cultivating and maintaining a diverse and inclusive environment.
The Mountainside Family Medicine Residency Program, one of three residency programs at Hackensack Meridian Mountainside Medical Center, provides unmatched learning opportunities for residents and a chance to fully prepare for the current and future healthcare environments. Our graduates aren't just great doctors – they're leaders in Family Medicine and in their communities.
For more information, please contact our Residency Coordinator at (973) 259-3578 or email AnnMarie.Jones@mountainsidehosp.com
A superb education in a wonderful setting
Our personalized approach to education allows our residents to obtain in-depth knowledge of family medicine while supporting their individual interests and needs. Through our affiliations with the Hackensack University Medical Center and as one of the core residencies in the Hackensack Meridian School of Medicine, our residents become intimately involved in:
Academically challenging rotations
Research and scholarly activity
Assessing and treating patients within the context of their families
Understanding the impact of patients' psychosocial issues on their overall health and well-being
Teaching medical students and junior residents
Providing educational and medical services to children, adults and geriatrics in the community
Employing real-world practice management skills in the Family Practice Center
A supportive and caring environment for great training
Our educational philosophy encompasses the belief that learning best occurs in a supportive environment geared toward adult learners. At HackensackUMC Mountainside Family Medicine Residency, residents and faculty are a close-knit group that works collaboratively for the benefit of patients, the community and each resident's professional growth.
We begin our commitment to individualized educational programming with a -one week orientation program. During this time, we help residents evaluate their strengths, weaknesses and learning style as they begin their residency. This helps us collaboratively develop an individualized program for each resident to optimize their residency experience. To ensure continued professional growth, a faculty advisor is assigned to each resident as a mentor. The advisor provides ongoing support and feedback along with emphasizing long-term individual learning goals and objectives. This helps ensure that each resident's educational needs are met and that everyone has accomplished their academic goals upon graduation.
Residents receive up-to-date, ongoing evidence-based precepting geared to their knowledge and skill level. Each resident also receives timely and continuous feedback through multi-source evaluations, video observation, high fidelity simulation and a competency-based electronic evaluation system.
Emphasis on community and home visits
To increase community medicine skills and community commitment, residents are also regularly involved in providing screenings, educational programs and medical services to our local departments of health, nursing homes, universities and public schools. We also have an active home visit program for patients who are unable to see a physician in the office.
For more information, please contact our Residency Coordinator at (973) 259-3578 or email AnnMarie.Jones@mountainsidehosp.com