Internal Medicine
Program Highlights
10 Special Features of Mountainside Medical Center Internal Medicine Residency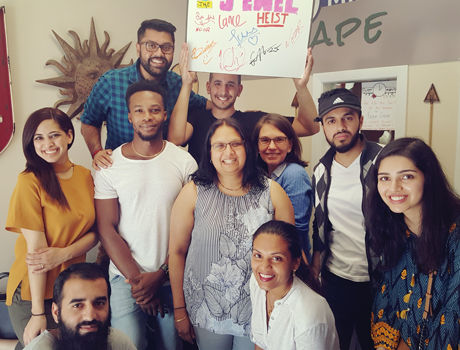 Here at Mountainside Medical Center, we provide the highest quality training environment to our residents – with a learner centric approach to the clinical environment while also maintaining patient-centered care. All residencies at Mountainside Medical Center are newly under the sponsorship of Hackensack University Medical Center and the Hackensack Meridian School of Medicine. These features make Mountainside Medical Center an excellent place to train in Internal Medicine:
1. Close mentoring and working relationships with faculty - Since we do not have fellows, our residents are the primary learners and therefore are given first opportunity to care for patients and perform procedures such as intubations, central lines, etc.
2. Care of patients along the continuum of care - Recently hospitalized patients who follow-up in our Adult Health Center allow residents and core faculty the opportunity to provide top-notch primary care to avoid further hospitalizations.
3. Ambulatory Block Structure - Our "6+2" Ambulatory Block schedule ensures that residents are no longer torn between taking care of two different sets of patients on any given day. When assigned to the hospital floors and the ICU, residents can fully focus on the patients in front of them and learn inpatient skills. When on the Ambulatory Block, residents can fully focus on developing their outpatient skills without the distraction of getting paged about inpatients. By minimizing the conflict between the inpatient and outpatient responsibilities, we decrease resident stress and allow them to more fully engage in the learning process.
4. Simulation - Simulation is now becoming the standard for training residents in procedural, behavioral and clinical skill competencies. A Simulation Laboratory provides our residents with an opportunity to hone their skills in a safe environment and receive feedback based upon direct observation.
5. Experienced Leadership - The leadership of the residency program consists of dedicated educators and clinicians with more than 40 years of cumulative experience. However, they remain open to new ideas and welcome the input of the house staff to make the training environment better.
6. Innovation - Recognizing that change is the only constant in medicine, our residency program teaches its trainees how to adapt and thrive in the midst of a constantly changing environment. Internal Medicine residents are taught concepts of high-value, cost-conscious care. All residents participate in quality improvement and patient safety projects.
7. Diverse Patient population - Our hospital attracts an extremely diverse patient population and we are sensitive to the values and needs of every patient's gender, race, nationality, religion and cultural background.
8. Fun, Friendly, Hardworking House Staff - Our small size allows us to truly get to know each other both inside and outside the hospital. Life events such as birthdays, weddings and births are celebrated by all in the department and support during the hard times is freely given. Our department treats residents as family and we truly provide a home away from home.
9. Scholarship Opportunities – We take great pride in fostering scholarly activities by the house staff. Our curriculum teaches how to conduct research and we are involved in a plethora of ongoing quality improvement projects that require scholarly effort. The faculty is supportive in writing up patients for case report submission to major societies such as ACP and the NJ Society of Oncology and more structured research opportunities are available through our network's flagship hospital, Hackensack University Medical Center.
Committee Involvement
The Internal Medicine residents actively participate in a number of medical staff and hospital-wide committees to develop skills in quality improvement, teamwork and problem solving. These committees provide forums to voice concerns and work on the development of solutions that result in better, safer care for our patients. House staff members are included on the following committees:
Performance Improvement
Patient Care Review
Critical Care/Code Blue/RRT
High-Value Care
Patient Safety
Clinical Resource Management
Pharmacy and Therapeutics
Graduate Medical Education (peer elected)
Resident Council
CLER Visit Representative