Internal Medicine
Resident Narratives
PGY-3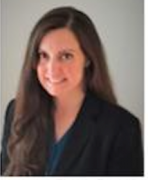 Dr. Stacy Galgocy
Medical School: Trinity School of Medicine
Hometown: Bethlehem, PA
Clinical Interests: Cardiology and Critical care
Hobbies: Hiking, Running, Futbol, Zoey (my dog)
"I chose the Hackensack Meridian Health Mountainside Internal Medicine Residency because the program offers a supportive environment accompanied by the necessary tools and resources to become a successful and well-rounded physician. The faculty take special interest and invest in the growth and education of each and every resident, and the hospital staff are warm and friendly. Also, the hospital is located in a diverse community relatively close to home. Mountainside is an ideal place to complete residency training."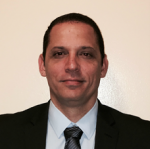 Dr. Yosleisy Valdes Hernandez
Medical School: Instituto Superior de Ciencias Médicas de la Habana (ISCM-H)
Hometown: Artemisa, La Habana, Cuba
Clinical Interests: Internal Medicine in all its extent, either inpatient or outpatient care
Hobbies: Photography, playing guitar, backpacking, traveling
"Mountainside Medical Center is more than an IM program to me. It is a place where I've found not only classmates and co-workers, but friends and family. The experience of working at MMC and being part of the IM program is outstanding, challenging, and rewarding. The direct patient care is set up to a maximum standard, with excellent attendings across all specialties that make your learning process curve steep throughout the 3 years of residency. I plan to apply all the acquired skills onto either inpatient or outpatient care, optimally a combination of both."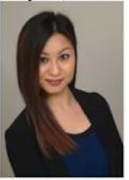 Dr. Christina Huynh
Medical School: Atlantic University School of Medicine
Hometown: San Jose, CA
Clinical Interests: Preventive Medicine
Hobbies: Fitness enthusiast, baking, interior designing, sneaker fanatic
"I chose Mountainside because I wanted to be a part of a small close knit program. I heard so many good things about the faculty members. I also heard about the Simulation Lab and how it is greatly incorporated into the curriculum. The structure of the program allows you time to prepare and study for boards. I liked that there is outpatient exposure every 6 weeks. I like that the program is small enough where it allows all of the residents to really form a close bond. The faculty members are very caring and they genuinely work hard to help us succeed. I would like to work in primary/preventive medicine. I hope to build my own private practice to provide the best quality healthcare."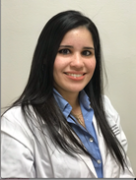 Chief Resident Dr. Jeannett Marte
Medical School: Pontificia Universidad Católica Madre y Maestra
Hometown: La Vega, Dominican Republic
Clinical Interests: Primary care, preventative, hospital
Hobbies: In my free time I enjoy spending time with my friends, taking care of my plants and making Dominican sweets
"I choose Mountainside because of the friendly environment and because of all the learning opportunities they have to offer. As a small program, I have the opportunity to work side by side with the floor attendings and the intensivists, and perform many procedures. The attendings are so dynamic and proactive in teaching. They all have a unique way of teaching which I love and I learn from each one of them. I love also that I'm given the necessary autonomy to make my own decisions. After I graduate I will be working hopefully as primary care physician with hospitalist privileges."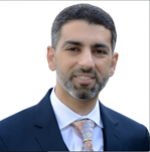 Dr. Hussein Mhanna
Medical School: NYIT College of Osteopathic Medicine
Hometown: Saddle Brook, NJ
Clinical Interests: Critical Care
Hobbies: Soccer, Tennis, Hiking, Painting, Calligraphy, Poetry
"Having done my Internal Medicine clinical rotations at Mountainside as a medical student, I fell in love with the program and decided to rank it at the top of my match list. Three years later, I'm happy I made that decision. Being in a small program gives you the advantage of working closely with the attendings and the rest of the clinical staff. The attendings are very approachable, love to teach and help you grow with enough independence and autonomy. After residency I plan to pursue a career in inpatient medicine."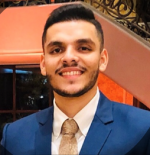 Dr. Shaiv Patel
Medical School: Smt. NHL Medical College, Ahmedabad, India
Hometown: Lodi, NJ
Clinical Interests: Gastroenterology
Hobbies: Tennis, Stand-up comedy, and collecting sneakers
"I chose Mountainside because it has a balance of great academic curriculum and patient pathology. Given the fact Mountainside is a community hospital, extreme attention is given to each resident in their overall performance. The attendings are very approachable and provide great feedback to improve the resident's capabilities. After residency, I would like to pursue a career in Gastroenterology."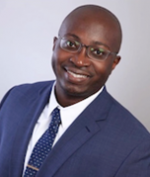 Chief Resident Dr. Aquino Williams
Medical School: St. George's University
Hometown: Queens, New York
Clinical Interests: Community Outreach, Healthcare Disparities, Hematology & Oncology, Pathophysiology
Hobbies: Crickets, Graphic design, drawing, weightlifting, poetry, comics, manga
"I choose Mountainside after doing my 4th year medical sub I here. I was impressed by how invested the faculty was in each resident's individual development. Given the size of the program, you are able to work very closely with all attendings including the subspecialty attendings. Everyone here has become more than coworkers or friends, they are like my family. After residency, I hope to be heading into Hematology/Oncology fellowship."
PGY-2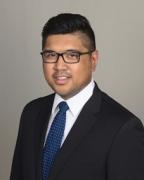 Dr. Matthew Balatbat
Medical School: Ross University School of Medicine
Hometown: Paramus, NJ
Clinical Interests: Nephrology, Critical Care, Primary Care, Healthcare Equality
Hobbies: Cooking, Guitar, Hiking, Woodworking
"I chose to rank Mountainside Medical Center at the top of my list because of the family atmosphere that comes from a smaller residency program. Residency is no doubt a stressful and trying time, but since my interview day here, I have been able to witness how the entire program - from the Program Director down – values mental wellness. We learn that a competent physician not only remains current with medical knowledge, but also is also emotionally and mentally well. The non-malignant environment provides a great background for learning how to treat our very diverse patient population in northern New Jersey. I grew up not too far from Mountainside, and it is an honor to be able to help heal my community, especially during this COVID pandemic. Following residency, I plan on fellowship in Nephrology. I would love to eventually settle down in the New York-New Jersey area with a mix of inpatient and outpatient work."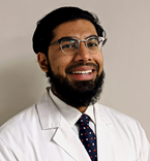 Dr. Arham Hazari
Medical School: NYIT- College of Osteopathic Medicine
Hometown: Teaneck, NJ
Clinical Interests: Pulmonary/Critical Care
Hobbies: Using my DO background to give free back adjustments to my colleagues
"Mountainside maintains an environment of camaraderie that is unique to this facility. This allows for better coordination between providers which ultimately optimizes patient care. When I rotated with the Internal Medical residents as a medical student, I found that this program was very different from my experiences with other residencies. Mountainside's Internal Medicine program has many opportunities for learning, hands-on experience, and building relationships with mentors. I saw this program as the perfect place for growing into a physician after completing medical school. After graduation I would love to travel the world!"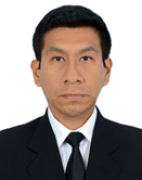 Dr. Carlos Huauya Leuyacc
Medical School: Universidad Nacional Mayor de San Marcos, Lima Peru
Hometown: Lima, Peru
Clinical Interests: Chronic Kidney Disease, Preventive medicine and Autoimmune diseases
Hobbies: Movies, Art, Literature and Comics
"Mountainside Medical Center is a great place to train. What I like the most about the program is the faculty because they are invested in our growth as professionals, and they provide us with all the resources to excel in our career. We can develop long-lasting relationships with our mentors and colleagues who support us along residency. The patient population is diverse which contributes to the number of conditions that we see on our daily practice. After graduation, I plan to stay in the area and be part of an Internal Medicine practice."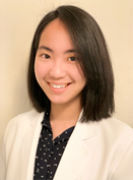 Dr. Mengshan Lin
Medical School: National Defense Medical Center
Hometown: Taipei, Taiwan
Clinical Interests: Pulmonology and Critical Care
Hobbies: Running, Musicals, Wine tasting, Dog and cat sitting
"First of all, I love that the program is close to New York City. It also has a great fellowship match, they produce great physicians, the curriculum is very educational and hands on, but most importantly, the camaraderie is unmatched. The residents and staff here are all so friendly and make me look forward to coming to work every day. After graduation I will be applying for fellowship in Pulmonology and Critical Care."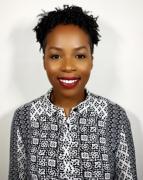 Dr. Tochi Mbolu
Medical School: Windsor University School of Medicine
Hometown: Aba, Nigeria
Clinical Interests: Community Outreach
Hobbies: Going to the gym, hiking, wining and dining
"At the age of seven, I immigrated from Nigeria to USA with my family. I have lived in Roselle, NJ for most of my life. When I was applying for residency there was no doubt that I wanted to stay close to home. I wanted a close knit residency program that provided a safe work environment to learn. Mountainside has allowed me to work with a culturally diverse group of extremely driven and accomplished colleagues who constantly motivate me. These are strenuous yet pivotal years of our life and I am thankful to be in a program that helps optimize overall wellness. My post graduate plans include opening a practice with my siblings who are also physicians – I envision caring for diverse patients at the Mbolu Medical Group!"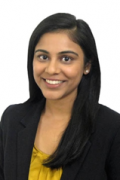 Dr. Dhara Patel
Medical School: St. George's University
Hometown: Old Bridge , NJ
Clinical Interests: Primary care , Preventative medicine, Continuity of Care
Hobbies: Kickboxing, Taekwondo (2nd degree black belt), painting
"I chose Mountainside mainly for the approachability of the faculty and the emphasis the program places on our individual education. I was initially struck by how our Program Director and leadership team truly care about the wellbeing of the residents and are invested in shaping us into the best physicians we can be. Our hospital is big enough to give good exposure to a variety of disease processes, but small enough to feel like we are part of the community here. My favorite part of the program is the warm, inviting atmosphere here that is optimal for these few years of rigorous training. I am confident I will be prepared to work in either the inpatient or outpatient settings after residency, as we get quality education on both fronts. I couldn't have asked for a better program!"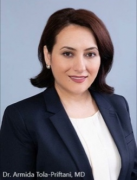 Dr. Armida Priftani
Medical School: University of Medicine Tirana, Albania
Hometown: Elbasan, Albania
Clinical Interests: Women's Health
Hobbies: Cooking healthy food, Painting, Spending time with family (especially with my daughter who is the cutest in the world)
"What I love about the program is the diversity. I was impressed with both the quality of the program, and how our Program Director and leadership team truly care about the well-being of the residents. After graduation I plan on to travel the world and ultimately go into outpatient practice."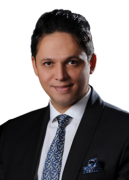 Dr. Soroush Seifirad
Medical School: Tabriz University of Medical Sciences, Post Doc Research Fellowship at Harvard
Hometown: Tehran
Clinical Interests: Cardiology, Pulmonary and Critical Care Medicine
Hobbies: Playing piano and some other instruments, swimming, hiking and traveling, books
"Montclair is an ideal town, a vibrant, diverse suburban environment while being just a half an hour away from Manhattan, where I can enjoy culture and art and have fun at the weekends. I have always been in huge programs -Tabriz, Tehran, Baylor and Harvard. I wanted to experience a different atmosphere and feel at home while working with a small team that I know by my heart. What I like about the Internal Medicine program at Mountainside is the open door policy of the leaders, diversity of the patients, the ambulatory block clinic schedule, and feeling at home with my family that always supports me. In the long run, I would like to become a physician scientist, and hope to pursue fellowship, probably in Cardiology."
PGY-1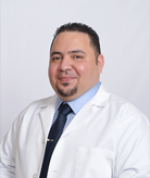 Dr. Emad Alatassi
Medical School: Al Neelain University Faculty of Medicine, Sudan
Hometown: Homs, Berkeley
Clinical Interests: Critical Care
Hobbies: Traveling and electro-mechanical engineering
"I chose Mountainside because of the diversity and the warm family atmosphere. We are a small program and know each other well. I love how when we gather, we have Middle Eastern Hummus, Desi Biryani, Nigerian Jollof rice along with the Pizza and Burritos all on the same table. Medicine is my passion but I also love traveling and electro-mechanical engineering. To combine all my hobbies together; I recently obtained a van that I work on in my spare time. My hope is to fully customize and upgrade it to a full-off-grid 4x4 monster vehicle and drive it to Utqiagvik in Alaska; the northern most community in the United States. I am working on my Critical Care fellowship application and I believe this program will prepare me very well for it."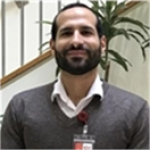 Dr. Shadi Gad
Medical School: Tanta University School of Medicine
Hometown: Tanta, Egypt
Clinical Interests: Hematology/Oncology, drug development, medical devices
Hobbies: Hiking, Walking, Cooking and Reading
"I appreciate being part of the Mountainside Medical Center Internal Medicine Residency Program. We are provided with many educational opportunities every day. The program focuses on making residents strong in an academic and clinical environment. There is unique diversity among residents, faculty and staff. Everyone has their own story that is special and makes the whole group stronger. The leadership and the faculty support the residents in every possible way. It is so nice to belong to a place where you are taken care of. In my spare time, I like to take walks listening to audio books about history. I started to play the piano but I still need a lot more practice – hopefully I will be able to play when we resume our hospital talent show! I am planning to apply for Hematology/Oncology fellowship after graduating from the program."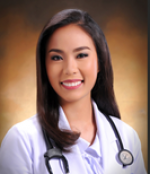 Dr. Francine Lucero
Medical School: Cebu Institute of Medicine
Hometown: Cebu, Philippines
Clinical Interests: Pulmonology, Cardiology
Hobbies: Running, Yoga, Traveling
"The program's staff and leadership have been incredibly kind and supportive to the residents. Great balance of excellent clinical training and quality of life, too. I also really liked the overall organization of the residency program with the 6+2 block schedule (three 2-week inpatient blocks followed by 2 weeks of ambulatory). After graduation I will most likely go for fellowship, either Pulmonology or Cardiology."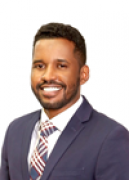 Dr. Huzaifa Salim
Medical School: University of Medical Sciences and Technology
Hometown: Mazroub, North Kurdufan, Sudan
Clinical Interests: Cardiology and Public Health
Hobbies: Running and Sudanese music
"I chose Mountainside because I was looking a program that will take me to other side of the mountain in my career. It had the perfect balanced mix of highly intelligent mentorship, diverse staff and an enriching sense of family and friendship. What I like most about the program is that it doesn't matter where you are from, there is a place for you and your heritage here. After graduation, I'm hoping to fulfill my dream of becoming an Interventional Cardiologist."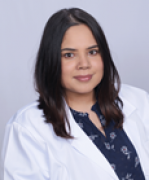 Dr. Saira Sheikh
Medical School: Ziauddin University
Hometown: Karachi, Pakistan
Clinical Interests: Care, Endocrinology and Integrative Medicine
Hobbies: audible books, eating my weight in desi food (biryani is love!), binge-watching Pakistani TV shows, and keeping my curious four-year-old son out of trouble (almost always failing)
"I chose Mountainside Medical Center because of the sense of family and togetherness displayed by the faculty, administration, and residents. I am truly honored and privileged to have been included to work among this wonderful team." After graduation, I see myself working in primary care with a profound interest in Integrative Medicine. My mantra is, "The doctor of the future will give no medication but will interest his patients in the care of the human frame, diet and in the cause and prevention of disease"—Thomas A. Edison (1847-1931).""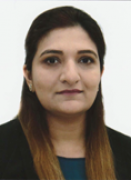 Dr. Tehrim Zahid
Medical School: King Edward Medical University, Lahore Pakistan
Hometown: Pakistan
Clinical Interests: Pulmonary/Critical Care, Academic Medicine
Hobbies: Fashion designing
"I chose Mountainside because of the welcoming and friendly environment that it has to offer. On the day of my interview, I was impressed with the program's emphasis on resident wellness and education. The strength of this program lies in its connectedness and support system. It's an extremely clinically orientated program that aligns with my goals and values. I know that this is the place that will help me grow up as an independent and competent clinician. I am glad that I moved to an amazing and culturally diverse city with a lot of fun things to do with my kids in my free time."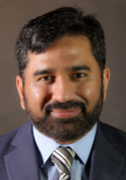 Dr. Qamar Zaman
Medical School: Latin American School of Medicine (Escuela Latinoamericana de Medicina)
Hometown: East Rutherford
Clinical Interests: Primary Care
Hobbies: Fish keeping
"I am a Pakistani who studied medicine in Cuba and ended up here in NJ where I am living in an environment of multiculturalism and friendliness. The most important aspect of the Internal Medicine program at Hackensack Meridian Mountainside Medical Center is that it's a small program and we residents are a family, it is diverse and inclusive - based on mutual respect and excellence in our profession. I would like to go into primary care, however previous residents have done fellowships in different subspecialties so it's good to know that the possibility of fellowship is always there."
Preliminary PGY-1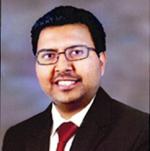 Dr. Syed Uzair
Medical School: Quiad e Azam Medical College
Hometown: Palmdale, CA
Clinical Interests: Hospital Medicine
Hobbies: Hiking, Cooking, Playing and Watching Cricket
"I got the sense during my interview that how supportive the program will be, and the interview day was very well organized. Mountainside has provided me opportunity to work with a culturally diverse group of amazing colleagues with whom I have been learning every day. I have already made lifelong friends here in short amount of time and it is fun to be challenged academically. The Program Director, attendings, staff and faculty are extremely supportive and provide a great platform to become a better physician. I think the training I am getting here with the diverse patient population will help me tremendously in my future practice of Hospitalist Medicine."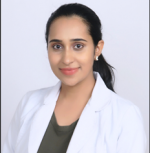 Dr. Manassa Vasireddy
Medical School: South East University
Hometown: Andhra Pradesh, India
Clinical Interests: Hospitalist, Primary care
Hobbies: Gardening, Yoga
"I love Mountainside because of the cultural diversity and the community vibe the program has. It has structured didactics which is very unique to this program. I feel like this is my extended family and it is by no means an exaggeration! Everyone here is very warm and welcoming from the time I started here. After graduation I want to work in a combined inpatient and outpatient job as a hospitalist and primary care physician."