Internal Medicine
How to Apply for Program and Electives
Thank you for your interest the Internal Medicine Residency Program at Mountainside Medical Center in Montclair, NJ.
We accept applications only through the Electronic Residency Application Service (ERAS) and every application submitted is reviewed.
Every application downloaded into ERAS for our program is reviewed. Due to the high volume of applicants, we do not accept phone calls or faxes regarding positions, interviews or criteria. Interviews are scheduled via the e-mail address you provide in ERAS. Our interview time frame is approximately November thru January. Unfortunately, we are unable to invite all who apply to join to our program. However, we guarantee that every applicant will receive careful consideration by our review committee.
Requirements
US citizenship or Green Card (unfortunately we cannot sponsor any visas; e.g. J1, F1, H1b…)
Graduation within the last five years from a medical school accredited by the LCGME or an international school recognized by the World Health Organization
Successful completion of USMLE Step 1 and Step 2 CK/CS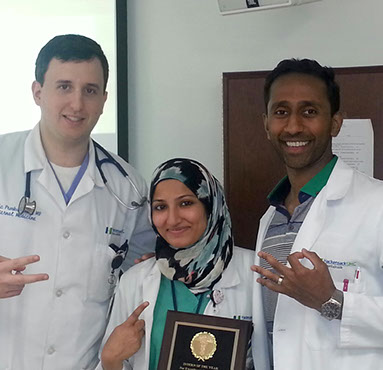 The Application Process
Apply through ERAS before January 5th. We are made aware of ERAS updates as you download, so there is no need to contact us.
Your application should contain:
A copy of your medical school diploma
Transcript
MSPE
Dean's letter of recommendation
Three additional letters of recommendation from physicians who know the quality of your clinical work
A copy of your ECFMG certificate
Your curriculum vitae
Any clinical experience (which is helpful but not necessary)
We do not offer externships or observerships.
How to Apply for Electives
We welcome third- and fourth-year medical students to rotate on our inpatient floors and in the ICU where they will be given hands-on opportunities to learn and care for patients.
Interested students should email the Program Administrator at Jeanette.Richardson@mountainsidehosp.com with rotation requests and dates.
Mountainside Medical Center is affiliated with Rutgers - New Jersey Medical School. We also currently have institutional agreements with these medical schools: Rutgers - Robert Wood Johnson, St. George's, NYIT College of Osteopathic Medicine and the Philadelphia College of Osteopathic Medicine.