Internal Medicine
Conferences
Mountainside Medical Center residents attend a wide variety of conferences to ensure their exposure to the breadth and depth of Internal Medicine.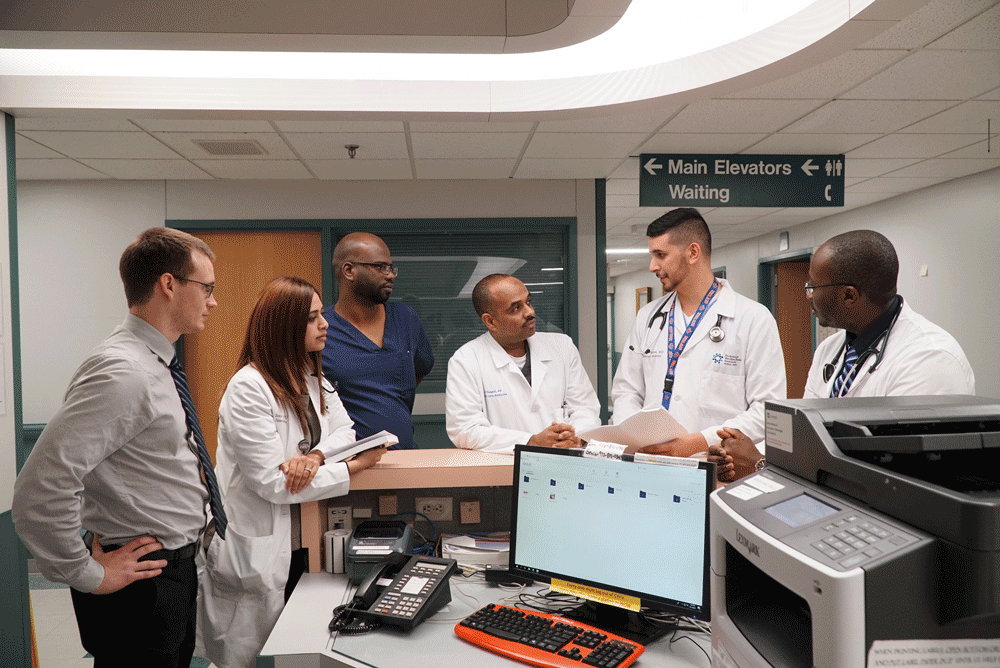 Resident Morning Report: Daily from 8:15 to 9am. Case discussions focusing on history taking, physical exam review, differential diagnosis development, diagnostic work-ups and management decisions taken from the medical wards, ICUs and clinics. Cases are presented by residents and interns for discussion with the Chief Resident and a member of the core faculty.
Noon conferences: Our curriculum follows a two-year cycle covering core topics in general Internal Medicine and all of the subspecialties. Conferences during the first two months of every academic year are geared towards providing interns with the skills needed to manage acute medical problems ("Doctor, Your Patient has Chest Pain, Fever, etc….")
Medical Grand Rounds: Wednesdays 12:30-1:30pm. Weekly conference that brings together the faculty, house staff and students for a comprehensive update on key topics in Internal Medicine, IM subspecialties and specialties across all fields of medicine. Speakers include faculty who are distinguished in their field of expertise at various institutions.
Journal Club: Once monthly. Review of research study design, evidence-based medicine, and critical appraisal of literature, review of classic and recent studies and presentations of ongoing research.
Patient Safety and Quality Conference: Twice a month. A patient case, where the outcome was not ideal (patient morbidity or mortality), is discussed among faculty and residents with emphasis on how to improve systems to provide better, safer patient care.
Tumor Board: Multidisciplinary conference to discuss the optimal diagnostic evaluations and treatment strategies for patients with cancer.
Additional/Specialized conferences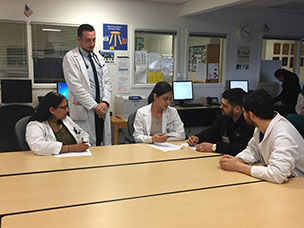 Chief of Service: Scholarly reviews presented by junior and senior residents.
Ethics Conference: Discussion on the ethical, legal and cross-cultural aspects of practicing medicine led by distinguished faculty.
Joint Conference: Conducted with Family Practice residency, including a Business of Medicine curriculum, Research Seminars and Ethics Conference.
Afternoon Teaching Sessions: Focused teaching sessions for interns and residents (EKG review, PFT's, Board Review, documentation skills).
Physical Diagnosis: Stanford 25 Curriculum – reinvigorating the "hands on" art of medicine.
Research Conference: A forum for residents to share their research progress.